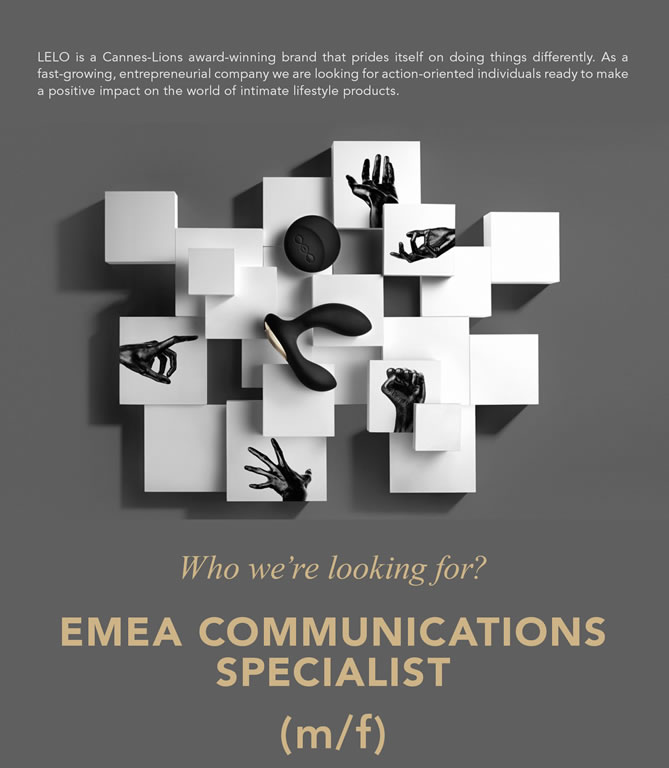 Who we're looking for
LELO is a Cannes-Lions award-winning brand that prides itself on doing things differently. As a fast-growing, entrepreneurial company we are looking for an action-oriented individual who is looking to make a sex positive impact on the world through the work that they do.
We want adventurers to seize the opportunity to work in a global company from the beautiful city of Zagreb, with opportunities to work and travel to all our global offices from Stockholm to Sydney, San Francisco to Shanghai and beyond.
The ideal candidate should feel just as comfortable working on strategic communications objectives as they are managing the day-to-day execution of creative communications campaigns. This role will suit a talented, ambitious, and highly creative professional with excellent communication skills and media awareness.
You will have a nose for a story, the skills to enthuse others to realize your vision and the ability to coordinate a team to rollout highly effective and impactful campaigns.
In short, we are looking for someone who's not afraid to challenge existing standards.
We want someone who's driven to make great work and who'll take the risks to get there. You will be unafraid to take on the multi-faceted roles of "doer", "thinker" and "dreamer."
What you'll do
As part of the communications team you will report to the Communications Manager and support with the planning and implementation of the EMEA communications strategy and local national level strategies covering PR, Media Relations, Advertising, Events & Sponsorships, Co-Branding and KOL & Influencer Relations.
You will develop media, blogger and influencer relationships across the EMEA region.
You will develop award winning and impactful integrated communication campaigns for the EMEA region and support local teams with localised campaigns.
You will measure and track the success of our communication activities.
You will become a PR guru.
Evaluating sponsorship and partnership proposals for the EMEA region, you will support the local national teams.
Naturally we you build collaborative and strong relationships with new people.
You will learn to assess and assist with media purchasing across all channels and ensure advertising delivers results.
What you've done
You are a fluent English speaker – native speakers a plus.
You have 2+ years of experience in Communications, PR, Journalism or Marketing – or surprise us with your background altogether.
You can sense a story and develop an angle.
You can turn your hand to anything and constantly improve at what you do.
Multitasking comes as second nature and you thrive under pressure as a natural problem solver and a strong team player.
Natural ability to build, develop and maintain relationships at multiple levels.
You have excellent verbal and written communication skills and not only are you creative but you are very resourceful too.
You are results driven and action orientated and require minimum guidance.
If you think that you might be a perfect match for the company, please send your resume and cover letter via the application link.
Please note that only short listed candidates will be contacted. All applications will be considered under the terms and conditions of confidentiality in accordance with the regulations of personal data protection.
LOCATION: Zagreb, Croatia