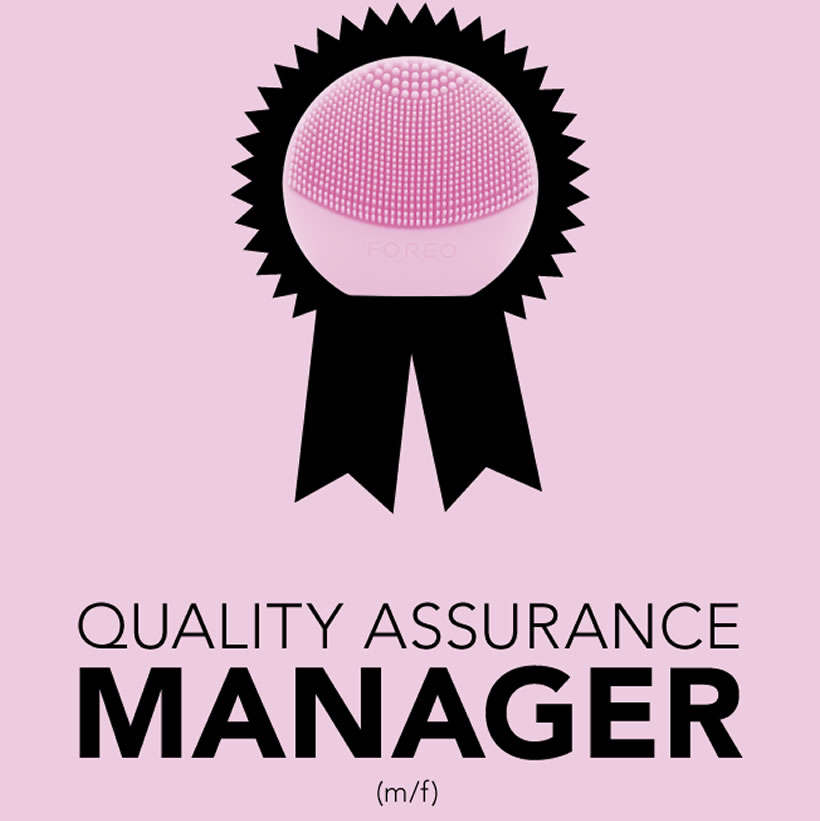 ABOUT US Our approach is a bold one: we do not just improve existing designs; we tear them down completely and restart from the ground up. It is a revolution, not an evolution. This creative destruction is at the heart of what we do and is reflected in our unique products designs. Our priorities and values are not dictated by investors or shareholders – our team at FOREO has the absolute independence to develop the best well- being products possible.
Our challenge is to question conventional thinking, and we are doing that by working on mold- breaking projects at the FOREO Institute founded in Stockholm, Sweden. The LUNA™ line of skincare devices and the new ISSA™ line of dental beauty devices have already smashed the conventions of the health and beauty industry. And we are just getting started.
IT'S NOT JUST A JOB. IT'S YOUR CAREER EVOLUTION.
WE ARE LOOKING FOR
We are looking for a QA Manager who will be responsible to develop, popularize and supervise the company's quality system, ensuring it is consistent with mandatory and corporate specifications and standards.
WHAT YOU WILL DO AT FOREO
Develop, implement, communicate and maintain a quality plan to bring the Company's Quality Systems and Policies into compliance with quality system requirements.
Responsible for Quality System Maintenance including subsystems such as documentation control, audit, calibration, corrective and preventive action, change management.
Improves processes which are aligned and integrated with operational activities for new product introductions with internal and external manufacturing.
Ensures Supplier Quality systems and processes are in full alignment with company's expectations and requirements.
Manages root cause analysis and implementation of corrective action for process related concerns.
Ensure that products and processes comply with the relevant requirements of the quality management system.
Responsible for planning, organizing and managing the overall activities of incoming, in-process and outgoing quality functions.
Ensure timely resolution of supplier failure, corrective actions and preventive actions.
To organize and implement the internal audit and external audit as related procedures requirement.
Generate quality reports.
Control quality costs and monitor records of product defects and failure rates.
Identifying relevant quality-related training needs and delivering training.
QA team management.
Other tasks assigned by superior.
WHAT YOU WILL BRING TO THE TABLE
Bachelor s Degree in Engineering or highly related field (Advanced Degree desired).
Minimum 3 years of experience in FMCG industry with proven management experience applying progressive quality systems and tools.
Process Audits and other proactive quality management practices.
Experience in a Lean manufacturing environment is preferred.
Possess strong interpersonal & communication skills to influence and collaborate across all organizations.
Ability to stand in front of customers, clearly articulate issues, understands customer expectations and executes corrective actions.
Experience with and ability to understand, accept and respect various cultures.
Detail oriented with excellent multi-tasking skills.
Willingness to travel when required.
Experienced in Quality Management System, such as ISO9001, ISO14001, ISO13485, 21 CFR 820, SOR98/282-2015.
Fluent in ENGLISH.
WHY FOREO
Amazing company culture.
Surround yourself with great team members. We hire great people based upon our core values creating a fun, collaborative and stimulating work environment.
We are a fast–growing team, allowing you to have a bigger impact on our future.
Are you ready to take this exciting challenge? Send your resume and cover letter via application link. We will appreciate your application via video CV.
Please note that only short listed candidates will be considerated. All applications will be considered under the terms and conditions of confidentiality in accordance with the regulations of personal data protection.

LOCATION: ZAGREB