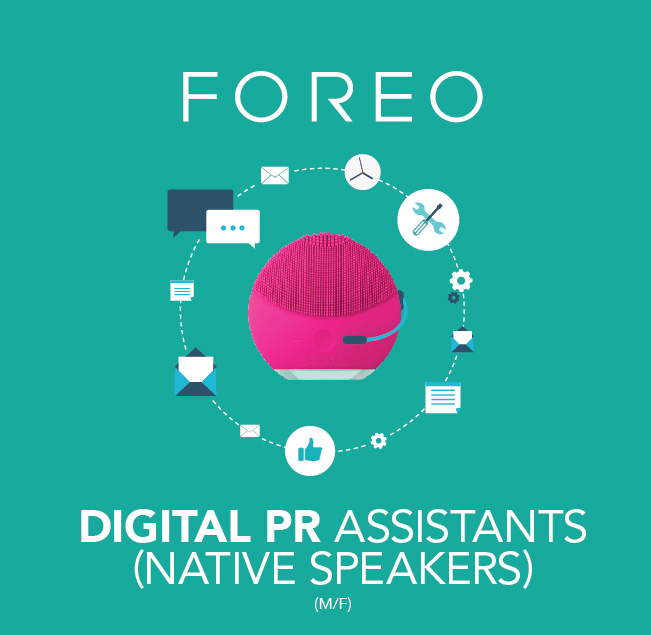 At FOREO, our mission is to question the conventional thinking. And we are doing just that by working on mould-breaking projects, changing the world one amazing product at a time. Our LUNA™ line of skincare devices and the new ISSA™ line of dental beauty devices have already smashed the conventions of the health and beauty industry. And we are just getting started.

IT'S NOT JUST A JOB. IT'S YOUR CAREER EVOLUTION.
We are looking for Digital PR Assistants to join our team.

If you consider yourself digitally savvy, already possess basic knowledge in digital marketing and PR and are hungry for expanding your digital content skills, FOREO is the perfect place for your career development. The role establishes and maintains quality partnerships with websites and influencers, or utilizes self-service content distribution networks.

Your scope of work will include researching and establishing contacts, analysing offers, supporting the process of content creation with partners, tracking success and much more. You will collaborate with all members of the media team and colleagues from global offices to complete all processes in producing quality content.

Since the scope of possibilities and channels to work with is very broad, we are thinking of a hands-on professional, who will match the objectives and campaigns assets the best s/he can. Any previous experience in the digital marketing and PR environment is therefore beneficial for this role.

WHAT YOU WILL DO AT FOREO
Participate in the paid digital content projects by establishing connections with influencers and websites and creating quality content.
Protect the online reputation of the products by making sure audience sees a positive impact.
Support evaluation of queries coming in from PR/Marketing managers from different countries of the world.
Track and record everything done in cooperation with the PR/Marketing and Media managers.
Support product launch campaigns in the field of content advertising, paid PR, online reputation management.
WHAT YOU BRING TO THE TABLE
Required Experience / Skills
At least 1 year of experience in a similar role.
Good knowledge of digital marketing and PR environment.
You are a NATIVE speaker in Arabic, Spanish, Russian, Japanese, Korean, Malaysian or Filipino.
Good level of ENGLISH (writing and speaking).
Personal Qualities Required
Passion for content advertising.
Passion for finding new and unexpected ways to organically tell the story of the brand/product.
Passion for organizing things, putting them into buckets.
Enjoy working on analytical tasks.
Critical eye and striving for excellence in everything you create.
Being result-driven, persistent and with a high level of motivation.
Work at FOREO's HQ office in Zagreb, Croatia
Become part of a highly skilled and experienced media team
Participate in global and local campaigns and be able to influence their success
Profit from a creative, knowledge-sharing and stimulating environment
Embrace the possibility to grow and take on the most optimal roles and responsibilities in a fast growing environment
If we raised your interest and you think you might be a perfect match for our company, send your motivation letter and CV in English via APPLICATION LINK.
Please note that only the shortlisted candidates will be contacted. All applications will be considered under the terms and conditions of confidentiality in accordance with the regulations of personal data protection.
LOCATION: ZAGREB, CROATIA