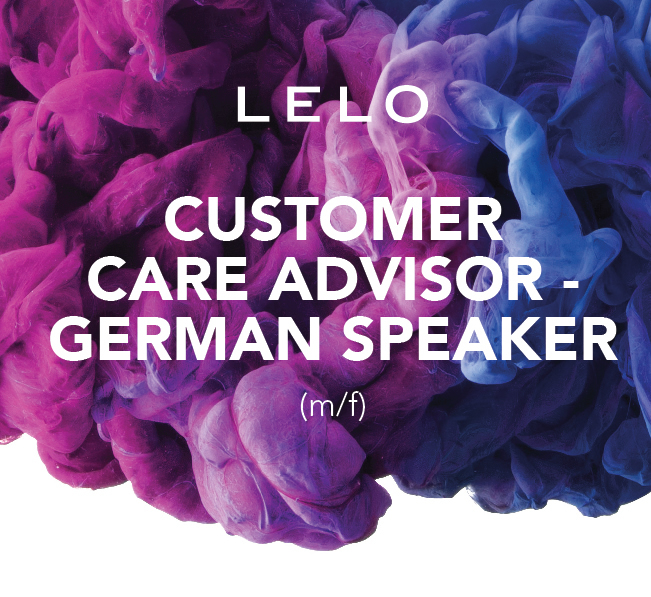 About Lelo
LELO is the world's leading designer brand for intimate lifestyle products. On launching in 2003, LELO transformed the look, feel, function and overall perception of personal massagers. Today LELO applies the same commitment to quality and innovation to its bedroom accessories, massage oils, soy massage candles and a premium line of silk intimate apparel. LELOi AB is a Swedish company behind both LELO, Intimina and PicoBong brands. The LELO group's offices are located all over the world, from Stockholm to San Jose, from Sydney to Shanghai.
Who we're looking for
LELO is looking for exceptional individuals, entrepreneurs and leaders by nature as well as skilled professionals by experience. This is a unique opportunity to engage in an exciting role where you will be required to use your own experience and expertise to successfully provide service or product information, solutions and relevant details to our customers within the German market.
You are expected to be a sociable individual with a knack for providing professional and clear answers to customer's requests.
What you will do
Provide a highly professional consumer experience by engaging with the consumers through various communication channels (e.g. email, phone).
Answer customer enquiries and complaints in a friendly and tactful manner whilst providing them with accurate, timely and professional responses/resolutions.
Solve customers' problems by clarifying their complaints, determining the cause of the problem, and selecting the best solution.
Take B2C orders and coordinate the order status, shipping dates, product availability and back orders with the sales department.
Interact and communicate with the logistics department regarding the orders status.
Pursue new customer opportunities.
Build rapport with the customers.
Use customer feedback and communicate with other teams in order to improve customer service.
Translate for all departments when/if needed.
Follow up on marketing campaigns, tracking leads, capturing cross-selling opportunities.
What you bring to the table
In-depth knowledge of customer service, marketing and sales principles and practices.
1+ year of previous experience in Customer Service is a plus.
High commitment to customer satisfaction.
A patient, positive, and friendly attitude. Ability to handle complaints in a calm manner.
Strong detail orientation and analytical skills.
Flexibility.
Excellent written and verbal communication skills required.
Native German speaker, fluent in English.
Team player attitude is a must!
What we offer
Become a part of a dynamic team, where routine is not an option.
Belong to the group of selected people worldwide that gets the information about new products first, which is then communicated to our German costumers.
If we have raised your interest and you think you might be a perfect match for our company, please submit your application and motivation letter via application link.
Please note that only the shortlisted candidates will be contacted. All applications will be considered under the terms and conditions of confidentiality in accordance with the regulations of personal data protection.
LOCATION: ZAGREB, CROATIA