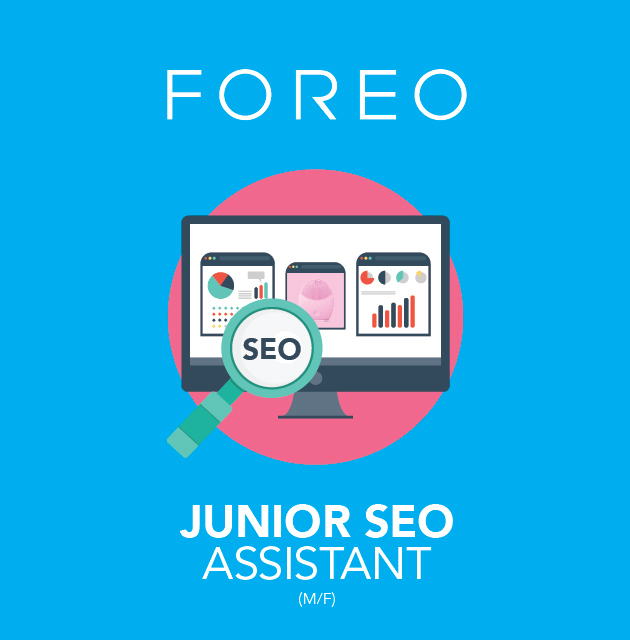 At FOREO, our mission is to question the conventional thinking. And we are doing just that by working on mould-breaking projects, changing the world one amazing product at a time. Our LUNA™ line of skincare devices and the new ISSA™ line of dental beauty devices have already smashed the conventions of the health and beauty industry. And we are just getting started.

Working as a Junior SEO Assistant at FOREO, your primary objective will be to learn and apply effective search optimization techniques to drive global organic traffic to our main e-commerce website. This is a very exciting, multifaceted role for an aspiring digital marketer. In collaboration with our Copywriting, Digital Content and E-commerce teams, you will increase the visibility of the FOREO brand and our product range across all major indexed platforms (Google Search, YouTube), our e-tailer sites worldwide (Amazon, Sephora, Douglas...) and more. Apart from working on product-focused content, you will combine your understanding of content marketing with SEO principles and help plan and create high quality blog content that will attract visitors and score conversions over a long period of time.
WHAT YOU WILL DO AT FOREO
On-page optimization of the Foreo.com website and MYSA content blog.
Keyword research for various purposes: optimizing content on partner blogs and affiliate websites, identifying interesting topics for new content production.
Using ahrefs, MOZ and similar SEO tools to discover relevant new keywords, track website rankings and optimize languages that you don't even speak :)
Creating briefs for our copywriters to produce search-optimized product pages and blog posts.
Researching relevant topics and competitors within skincare and the general beauty and cosmetics industries, and staying up-to-date on the latest developments within our field of expertise.
Technical SEO: using Google Search Console to investigate and solve site issues such as duplicate content, broken links, etc.
Reporting directly to the FOREO SEO Specialist, cooperating and communicating horizontally with managers and specialists from the Copywriting, Digital Content, E-commerce and other teams across the organization.
WHAT YOU BRING TO THE TABLE
Bachelor's degree from an accredited college or university (Business, Marketing or similar degree preferred).
Minimum 1 year of work experience in a digital marketing role at an agency, company or startup (2+ years preferred).
Solid understanding of fundamental marketing concepts and modern online marketing landscape.
Ability to learn fast, work on multiple projects and prioritize workload.
Attention to detail + analytical mind: capacity and patience to work with large amounts of data and prepare high-quality, detailed content briefs.
Result-driven personality and proactive, hands-on approach to individual assignments
Developed teamwork skills.
High level of interest for this type of role: curiousness to understand the search behaviour of our target audience and passion to drive results with digital marketing activities.
English, native level.
Near native knowledge of 1 or more foreign languages other than English.
Data analysis skills: MS Excel, Google Spreadsheets or similar.
Any kind of experience working with keywords or web traffic: Google Analytics or AdWords, MOZ, ahrefs, SEM rush, etc.
Familiarity with the beauty, skincare or cosmetics industry.
Basic HTML knowledge.
Challenging work in a young and dynamic team, working in an open and informal atmosphere.
Amazing company culture.
Gain high-value work experience and kickstart your digital marketing career.
Learn from the inside how our international 500+ people team works together across continents to make and market the beauty products of tomorrow.
Surround yourself with great team members. We hire great people based upon our core values, creating a fun, collaborative and stimulating work environment.
We are a fast-growing team, allowing you to have a bigger impact on our future.
ARE YOU READY TO TAKE ON THIS EXCITING CHALLENGE?
Send your resume and cover letter via APPLICATION LINK.
Even if you don't meet all the listed requirements but think you'd be an perfect fit for this position, we highly encourage you to apply.
Please note that only short listed candidates will be contacted. All applications will be considered under the terms and conditions of confidentiality in accordance with the regulations of personal data protection.
LOCATION: ZAGREB, CROATIA