(Senior) UX Designer (f/m/x)
Location: Osijek, Varaždin, Zagreb
IBM iX – It's never been a better time to be a creator.

We are a consultancy, digital agency, design studio, and tech company all rolled into one. Our 1,200+ experts in DACH and Croatia guide people, brands, and organisations in an agile and collaborative way: from analysis and concept via business case, design vision, and MVP development to roll-out and operations. We believe "Good Experience is Good Business". That's why we put human experiences first in everything we do. Together we help to shape a sustainable future: with digital products, services, and experiences that connect people.

We believe that good design can change the world. As part of the IBM iX network, we operate at the intersection of purposeful strategy, passionate design and disruptive technology, helping our clients to digitally reinvent their businesses. We take a human-centered, results-driven approach to deliver exceptional customer experiences – but also to improve ourselves and get better every day.

And you? Are you a specialist in your field, and are you able to think outside the box as well? We have taken off the blinders, too. Do you want to be a trailblazer? That is exactly what drives us. Have you always been inspired by science fiction? We want to shape the future ourselves because we are problem solvers – the IBM iX Experience Design Team.

We are looking for a skilled Designer with a focus on UX who will create meaningful digital experiences that really help users and effectively differentiate our clients' products. Someone who will, together with our customers, look past the obvious and put the focus on humans. If you find yourself in this description, keep reading!

You feel at home in the world of digital trends and love to drive projects with real impact? Then become a part of our IBM iX family now.

Your Responsibilities
You are responsible for the Design of new digital platforms and services by creating effective and inspiring experiences that are on-brand, and at the same time differentiating from alternatives
You identify relevant customer needs and business goals, and you make requirements, opportunities and problems tangible – in the form of Scenarios or User Flows
You are familiar with using qualitative user research methods, such as interviews, shadowing, usability tests and focus groups, and you can conduct them by yourself if necessary – in person or remotely, moderated, or unmoderated
You live the "Design Thinking" mindset and together with an interdisciplinary team of colleagues, customers and users, you generate useful and relevant human-based solutions
You translate your insights into useful and usable experiences, and you communicate your ideas clearly and understandably to your agile team members – such as product managers, designers, and developers
You know the relevant everyday design tools, and you are familiar with rapid prototyping methods – from paper sketches to functional click dummies
You support the team with customer development and pitches, and you contribute ideas for ongoing improvements, both in our ways of working and in our agency culture
Your Skills
You have a strong portfolio of diverse work that demonstrates your craftsmanship, but also your solid design process and understanding of technical feasibility
You work independently and take responsibility, but you are also willing to accept feedback from users, customers, stakeholders, design leads or your team as part of a design critique
You can present your work well and have strong arguments for your design decisions
You have an intrinsic interest in continuing to grow and learn – be it in related disciplines, new technologies or within the domain of your clients
You have no problem getting involved with other people in interviews or workshops and taking the perspective of your users and customers. Through your analytical mindset, you are used to questioning known views and understanding the needs and mental models of others
You are positive and proactive, and you enjoy creating great results together in a diverse, international team
Our Benefits and Your Perspective
In order to bring our visionary ideas to life, we need high-flyers from a wide variety of fields who can cope with fast-paced digital expansion. Our Academy supports this in combination with various offers for our employees.

With us, you can shape your career yourself and benefit from our IBM iX Academy training portfolio: we work with career pathways, 360° feedback and development plans to give our employees the best possible training opportunities. Want to find out more?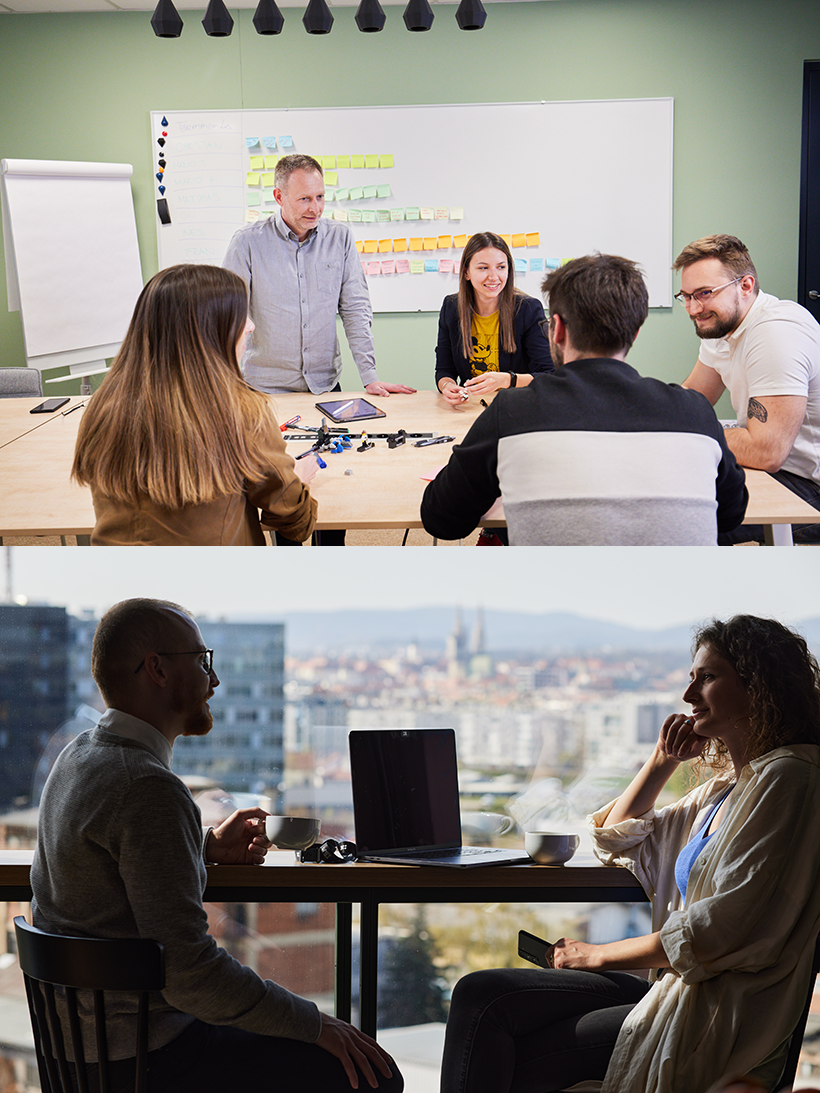 IBM iX is committed to creating an inclusive workplace offering equal opportunities to everyone. We especially encourage all people with their individual diverse backgrounds and perspectives to apply.

You think you are the best fit for this position? Apply now and send us your CV, please just make sure it's in English, as we are an international operating agency.
Questions about the job?
Please do not hesitate to contact:
Luka Zlatic
Talent Acquisition Consultant
+385 91 601 5011