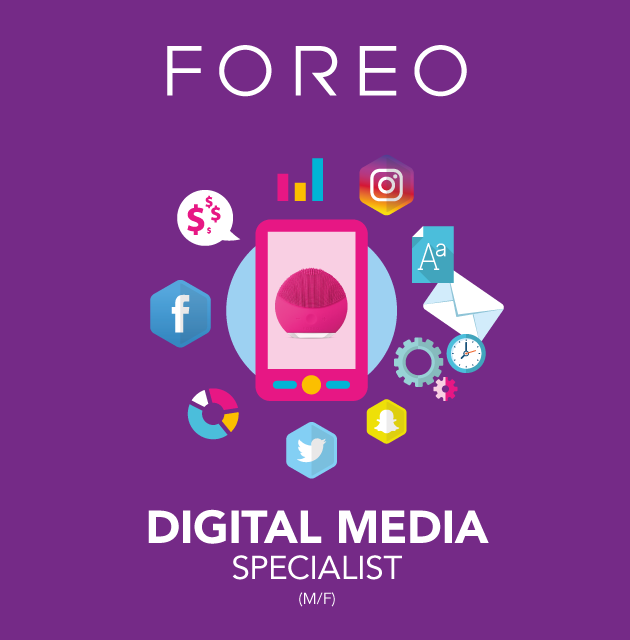 We are looking for a proactive Digital Media Specialist to make sure that media budgets and other paid digital advertising activities are efficiently planned and spent. We need a thinking and eager to learn individual, with a high willingness to explore new business opportunities, open to be diving into unknown, very well organized and constantly searching for new, different and better performing advertising scenarios.
The main focus of this position will be working closely with the Digital Media Manager to assist, learn and then fully own certain advertising channels and projects with the end goal of drive traffic and sales on FOREO.com. You will have all the possibilities to grow, learn from other multi-language and multi-discipline team members in various global offices, and eventually take the most optimal roles/responsibilities in a fast growing environment.
WHAT WILL YOU DO AT FOREO
Become the media planner that is able to pick a selection of channels/medias that works best in specific scenarios
Work in all the digital channels: PPC, Affiliate, Content, E-mail, Social Media….
Creating post performance reports to show the key insights and learnings
Be knowledgeable in hundreds of ways to spend budgets. You will have to work in an environment where same performance metrics cannot be applied, but still have to come up with rationalization of why we should do this or that, and guide people around you
Evaluate queries coming in from PR/Marketing managers from every country of the world
Build execution plans, guide PR managers, marketing managers, sales managers
Make sure the performance is tracked, come up with the unified metrics / data collection
Build strategies/roadmaps for product launch campaigns
Prepare creative briefs provide key digital insights for the creative department
Manage & follow-up with people so that things would be delivered
PERSONAL QUALITIES REQUIRED
To love digital advertising
To love organizing things, putting them into buckets
To love tables, graphs, formulas and analysis
Track, record, performance data evaluation of everything what is done
Positivity, pro-activeness
Enjoy working on analytical tasks
WHAT WILL YOU BRING TO THE TABLE
At least 2 years of experience in a similar role.
Very good level of English language (writing and speaking).
To be extremely well organised in your work: to-do lists, sheets, automatized reports, project management software. You will need them to be able to manage multi-layer, multi-platform, multi-market activities.
Result-driven and with high level of motivation and persistence.
Analytical multitasking mind ready to handle many parallel projects at all levels
Knowledge of Google Adwords, Google Analytics, Facebook advertising and the ability to learn very fast!
Healthy obsession with all the latest mobile apps everyone is using
You will work in FOREO's modern HQ in Zagreb, Croatia
You will become part of a highly skilled and experienced digital media team
You will participate in global campaigns and will be able to influence their success across all the digital channels, many you didn't know existed
You will profit from a creative, knowledge-sharing and stimulating environment
You will have the possibility to grow and the opportunity to take the most optimal roles and responsibilities in a fast growing environment
If we raised your interest and you think you might be a perfect match for our company, send your motivation letter and CV in English via APPLICATION LINK.
Please note that only short listed candidates will be contacted. All applications will be considered under the terms and conditions of confidentiality in accordance with the regulations of personal data protection.
LOCATION: ZAGREB, CROATIA