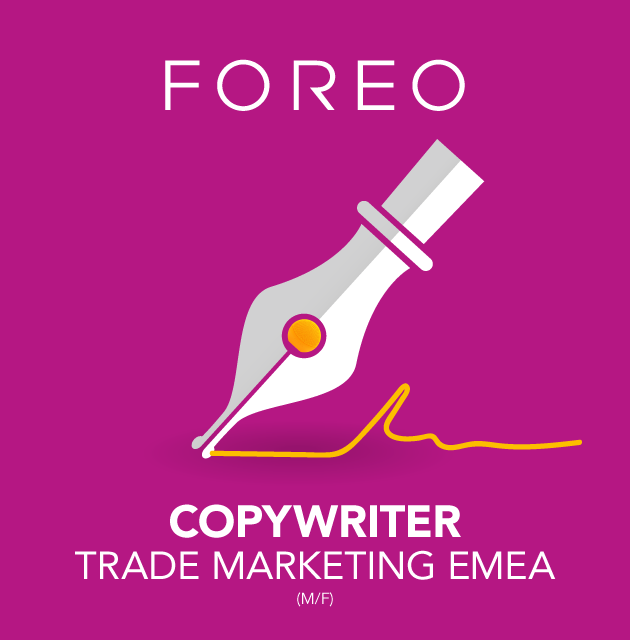 As the FOREO Trade marketing copywriter, you are an essential and integral part of our creative team. Working closely with design and trade marketing to produce copy for European markets that reflect our brand values, while raising awareness of the revolutionary nature of our new approach to skincare and oral care. You'll help us generate clear, informative and engaging text materials to develop product and brand awareness with consumers, business partners alike and drive sales.

This position is based in our European headquarters in the heart of Zagreb; 2016's most up-and-coming European city, in the heart of Croatia's art and culture scene surrounded by medieval towers, 19th century palaces, open-air markets, and ancient cathedrals with central Europe and the sapphire blue Adriatic sea only a short drive away.

WHAT WILL YOU DO AT FOREO
Writing a wide range of materials for a variety of audiences, always demonstrating a thorough understanding and knowledge of the FOREO brand, values, image and product portfolio.
Writing copies for all online (web banners, newsletters, brand pages, product pages, social media) / offline (leaflets, print ads, magazines, in-store materials) to support our product ranges through specific retailers.
Writing outstanding copy for EMEA markets targeting end-customers as well as retailers and distributors to generate interest and raise brand, product awareness and drive sales.
Collaborating with graphic designers and brand managers to develop innovative ideas and concepts in line with our core brand image and identity.
Producing written content for print and online media, managing content strategy as well as creating text for POP/POS materials, user manuals, product descriptions, social media channels, sales letters, ads, press releases and website newsroom articles.
Researching and investigating relevant topics and materials within skincare / oralcare and the general beauty and cosmetic industries, and keeping up-to-date on the latest developments within our field of expertise.
The FOREO Copywriter reports directly to the FOREO Trade marekting Manager.
WHAT WILL YOU BRING TO THE TABLE
Bachelors or Master's Degree from an accredited college or university (English, Literature, Journalism, Marketing or Communications degree preferred).
3 years of professional copywriting experience, experience working within the beauty- or luxury brand industries a plus.
Proficient in the art of writing great copy, with the ability to position yourself as a reader in a variety of different contexts.
Self-motivation and drive to write engaging, persuasive and original copy that makes FOREO the leading communicator in global beauty.
Keen attention to linguistic and conceptual detail and ability to quickly produce near-ready-for-print copy in line with brand value- and identity.
Ability to perform product and market research to support development copy and various marketing and PR-materials.
English, native level.
Amazing company culture.
Surround yourself with great team members. We hire great people based upon our core values creating a fun, collaborative and stimulating work environment.
We are a fast–growing team, allowing you to have a bigger impact on our future.
Are you ready to take this exciting challenge? Send your resume, examples of your best copies and cover letter to APPLICATION LINK.
Please note that only short listed candidates will be considerated. All applications will be considered under the terms and conditions of confidentiality in accordance with the regulations of personal data protection.
LOCATION: ZAGREB, CROATIA