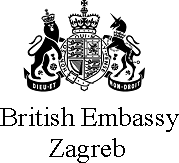 British Embassy Zagreb - Consular Policy Officer, Part-time
The British Government is an inclusive and diversity-friendly employer. We value difference, promote equality and challenge discrimination, enhancing our organisational capability. We welcome and encourage applications from people of all backgrounds. We do not discriminate on the basis of disability, race, colour, ethnicity, gender, religion, sexual orientation, age, veteran status or other category protected by law. We promote family-friendly flexible working opportunities, where operational and security needs allow.
The British Embassy Zagreb is part of a worldwide network, representing British political, economic and consular interests overseas. We are seeking to recruit a temporary, part-time Consular Policy Officer with responsibility for Croatia.
You will be a key member of a cross-Embassy team working on the UK's exit from the European Union. As part of the team, you will support engagement with local authorities in Croatia to track and understand the implementation of the UK-EU Citizens' Rights agreements. You will help ensure that timely and accurate information is available for UK nationals, including website content, and you will support pro-active outreach to UK nationals. You will develop close collaborative relationships with key UK Government Department representatives and local authorities in Croatia to ensure that all relevant policy areas of concern to UK nationals are covered.
You will be based at the British Embassy Zagreb though the position may require some travel within country. Your role will directly cover UK Citizens' Rights in Croatia, and you will be managed by a Regional Consular Policy Adviser (based in Rome).
Application deadline: 25 November 2018
Type of Position: Fixed Term, Part-Time
Working hours per week: 24
Duration of Post: 18 months
Starting monthly gross salary (HRK) 12152.00
Start Date: 4 February 2019
Main Duties and Responsibilities:
Specifically, as an integral part of the Embassy Team, you will:
Follow and understand host-country and regional implementation of Citizens' Rights agreements as part of the UK leaving the EU, and other issues relevant to UK nationals resident or visiting Croatia. Working with the Regional Consular Policy Adviser, use this understanding to produce internal analysis and policy advice to post and UK based teams;
Support the British Ambassador and other senior Embassy staff in Croatia and the Regional Consular Policy Adviser in establishing an effective network at a local authority and, where necessary, central government level, in order to generate understanding, insights and awareness;
Use your knowledge and understanding of implementation by host-country to support the delivery of information to UK nationals regarding their rights after the UK's exit from the EU, including through ensuring local information is available online and providing policy support to communications and engagement campaigns;
In collaboration with the Regional Consular Policy Adviser, other Embassy teams, and London colleagues, support the development and delivery of EU exit related messages;
Work and co-ordinate closely with other Embassy teams, supporting wider Embassy and British Government objectives, as well as co-ordinate with the Regional Consular Policy Adviser and Consular Regional Operations Managers (CROM);
Develop close collaborative relationships with other UK Government Department representatives including the Foreign and Commonwealth Office (FCO), Department for Exiting the EU (DExEU), and Other Government Departments;
Essential qualifications, skills and experience
Fluent Croatian (both written and spoken, minimum C1 Level for CEFR framework);
Fluent English (both written and spoken, minimum C1 Level for CEFR framework);
Previous experience or awareness of British and/or local country public sector policy development;
Ability to work as part of a diverse team, and build relationships with external stakeholders;
Excellent communication and presentation skills: written and oral;
Aptitude to analyse and process complex information quickly;
Excellent organisational and information management skills;
Ability to work on multiple tasks under pressure and meet deadlines;
Ability to travel within your country;
Desirable qualifications, skills and experience
Knowledge of local governmental structures and decision-making (local and central level);
Legal and EU/EFTA knowledge, experience and understanding;
Knowledge of British consular strategy outcomes and strategy;
Required competencies
Making Effective Decisions, Leading and Communicating, Collaborating and Partnering, Delivering at Pace, Engaging Internationally, Demonstrating Resilience
Other benefits and conditions of employment
This is a part-time, fixed-term contract of 18 months. The expected start date is 4 February 2019, however, the successful candidate should be available to start as soon as possible.
The successful candidate will be subject to professional background and security clearance and must have pre-existing work authorisation for Croatia in order to apply.
Staff recruited locally by the British Embassy in Zagreb are subject to Terms and Conditions of Service according to local Croatian employment law.
Visa / Passport requirements: Candidates must currently hold the independent right to live and work in Croatia and be prepared to ensure that right remains throughout the scope of the contract.
Additional information
Please note that the deadline for applications is 23:55 on the day mentioned in the above field "Application deadline".
We advise you to allow enough time to complete and submit your full application, since only applications completed and submitted before the deadline will be considered.
Please be aware that the deadline for submitting applications is considered to be the time zone for the country where the vacancy has arisen.
FCO does not pay for travel related expense incurred in interviews (including Security Check) or accept any financial risk, including cancelation or reschedule costs. The FCO will not meet the costs connected with relocation if offered a position.
How to apply: Please be aware that you will only be able to apply to vacancies for Local Staff roles with the British Government through this official tal.net site (operated by Oleeo). Jobs may be advertised on third party websites, however our adverts will always link back to the official tal.net site. If you complete and send an application through any other site, we will not receive it. Please use the following link to apply.