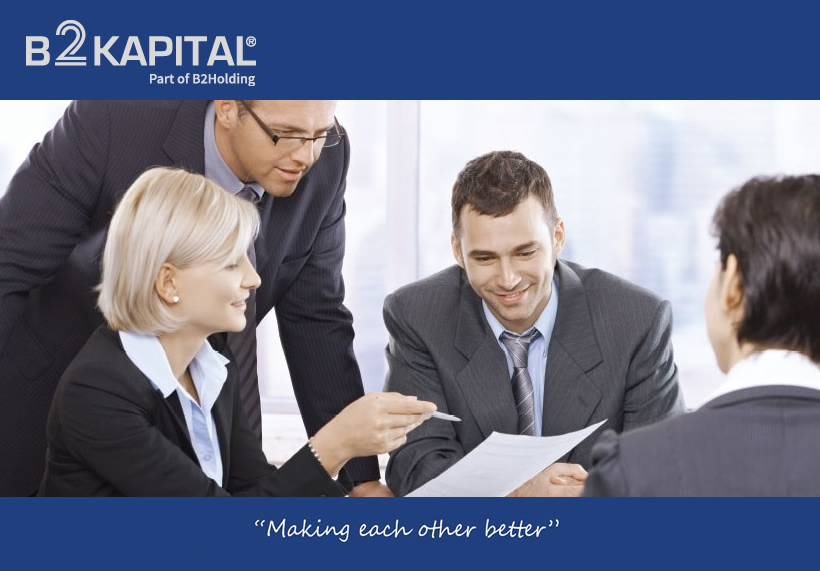 Senior Strategist (group position / international role) (m/f)
Collection Support Team is part of B2Holding Operations area and assists B2 companies in reviewing current processes affecting unsecured portfolios, identifying potential improvements and supporting with development and implementation, with the final goal of optimizing efficiency of collection process and increasing recoveries.

Job Summary:
As vital part of the team, the Senior Strategist's main responsibility is to evaluate portfolios performance by analyzing financial results, review strategy and segmentation in place and identify & implement potential ways to improve results.
The Senior Strategist is aiming at maximizing portfolios value, performance and recoverability while optimizing related costs.
He will cooperate closely with the other members of Collection Support Team and local workforce in their efforts of identifying ways to improve efficiency and increase effectiveness of collection process, as well as in the second phase of projects, related to implementation of proposed changes and monitoring results.

Duties and responsibilities:
Reviews current strategy & segmentation in place and its impact on portfolio performance
Reviews impact of legal environment on the choice of strategy in place and outcome in terms of performance
Identifies potential actions meant to improve current performance in the area of segmentation and strategy
For all the above, cooperates with local teams and with Collection Support Team members
Advises business units on performance of current portfolio strategy, identifies most successful approaches and proposes ways to increase effectiveness, subject to local approval
Supports local teams in implementing approved initiatives (planning, supervising implementation, testing) and further in monitoring on a regular basis targets for collection volumes as dictated by the estimated impact of new approach and portfolio characteristics
Qualifications and Requirements:
5+ years of experience in a similar role, preferably in debt collection industry
Degree in Economics, Business, Mathematics, Statistics or other relevant qualification
Postgraduate degree in Finance or Statistics would be an asset
Sound business judgment and an analytical, pragmatic and creative approach to problem solving;
Proficiency in strategy development and execution
Comfortable to work in high pressure environments and on an agile delivery plan
Exceptional attention to detail and an ability to convert the numbers to business meaning
Ability to prepare reports and conduct presentations
Fluency in English both verbal and written
Previous experience in debt collection industry and / or banking experience / Risk management – a plus
Availability to travel up to 50% of time
Skills and specifications:
Strong interpersonal skills: communication, facilitation, coordination, negotiation
Ability to cooperate well at all levels of the organization and with staff at remote locations
High level of integrity and dependability with a strong sense of urgency and results-orientation
Ability to stay on task while working on multiple work streams (organizational skills)
Problem solving skills with the ability to think through alternative solutions.
Commitment to promoting integrity, leadership and objectivity
Entrepreneurial team player who can excel in a fast-paced, challenging work environment
Flexible, positive attitude
Business-minded, energetic and proactive
Organized, rigorous and structured
What do we offer:
Extensive development opportunities: tailored trainings, aiming to maximize your potential
Possibility to strengthen expertise in a multi-national environment, covering more than 20 European markets
Attractive package, aligned with experience and expertise, as well as personal and team performance
Possibility to travel and work remotely
Welcoming and inclusive environment, based on B2Holding's policy of treating all employees with respect, regardless of their position, and avoiding any kind of discriminatory behavior or harassment
Please note that only short listed candidates will be contacted. All applications will be considered under the terms and conditions of confidentiality in accordance with the regulations of personal data protection.