Novopečeni umirovljenik je od 1948. godine kada se zaposlio 'preživio' devet direktora.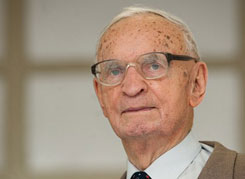 Službenik Josef Maška iz Češkog fonda socijalnog osiguranja odlazi u mirovinu nakon 62 godine rada u uredu, odnosno s navršenih 90 godina. I to samo zato što ga fond otpušta i šalje u mirovinu!
Kada je prije 62 godine Josef Maška prvi puta došao na posao ispisivao je podatke za državni fond socijalnog osiguranja u Pragu. To isto radio je do danas. Samo s tom razlikom što podatke traži na računalu i ispisuje ih na pisaćoj mašini.
Novopečeni umirovljenik je, od 1948. godine kada se zaposlio, 'preživio' devet direktora. U istoj kancelariji sjedio je čitave 62 godine, s izuzetkom tri godine, kada je po komandi morao ići u radionicu za proizvodnju katrana poduzeća CKD Staljingrad. (T. B.)
Izvor: Poslovni.hr