Više od polovice poslodavaca iz tog sektora i ove će godine zapošljavati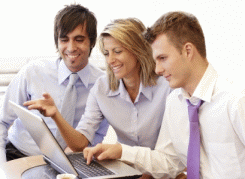 Unatoč krizi više od polovice najvećih hrvatskih IT poslodavaca i ove će godine zapošljavati nove stručnjake. Pokazuje to istraživanje koje su tijekom veljače ove godine na uzorku od 450 IT poslodavaca proveli Visoka škola za primijenjeno računarstvo i Algebra.
Istraživanje je pokazalo da ove godine vlada velika potražnja za softverskim inženjerima, sistemskim inženjerima, analitičarima informacijskih sustava te IT konzultantima. Osim toga, poslodavci su i ovaj put upozorili na nedostatak kvalitetnog IT kadra, piše Gordana Galović u Jutarnjem listu.
Strategija za razvoj
Ministar gospodarstva Đuro Popijač procjenjuje da IT industrija ima velike šanse postati jedna od najvažnijih hrvatskih djelatnosti, i to s naglaskom na izvoz. Resorno ministarstvo će, obećava ministar, odraditi svoj dio posla.
"U nadležnosti ovog Ministarstva nisu samo 'problematične' grane i poduzeća. Naša je zadaća poticati razvoj ukupnog hrvatskog gospodarstva. Tu je položaj IT industrije izvanredno važan i ovo je ministarstvo prava adresa za IT sektor", rekao je Popijač te najavio osnivanje posebne radne skupine pri Ministarstvu gospodarstva koja će izraditi "Strategiju i operativni plan razvoja hrvatskog IT sektora".
U radnu skupinu uključit će stručnjake i specijaliste, akademsku zajednicu te praktičare iz sektora. "Uvjeren sam da ćemo vrlo skoro dobiti dobru podlogu za snažniji razvoj ICT industrije u našoj zemlji, kako bismo iskoristili svoje znanje i mogućnosti za razvoj nacionalnog gospodarstva, ali i za izvoz domaćih projekata, proizvoda i usluga u druge zemlje. U oba pogleda, uloga Ministarstva je velika i mi ćemo odraditi svoj dio posla", rekao je Popijač. (V. K.)
Izvor: Jutarnji list