Sindikalni čelnici odlučili su se na razgovor i s predsjednikom države i s premijerkom kako ih se, kažu, ne bi optužilo da odbijaju dijalog.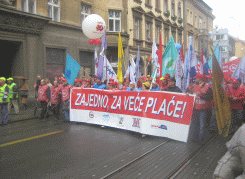 Dan uoči najavljenog početka skupljanja potpisa za referendum na kojem sindikati žele srušiti Vladin prijedlog izmjena Zakona o radu, premijerka Jadranka Kosor i čelnici sindikata pokušat će još jednom postići dogovor oko radničkog zakonodavstva.
Iako su tvrdili da neće razgovarati s Vladom dok ona ne povuče zakon, sindikalni čelnici odlučili su se ipak na razgovor i sa predsjednikom države i sa premijerkom "kako ih se ne bi optužilo da odbijaju dijalog". Posljednja je to prilika premijerki da izbjegne skupljanje potpisa za referendum, što bi se moglo izroditi u svojevrsno izjašnjavanje građana o njezinoj Vladi i Programu gospodarskog oporavaka, pišu
Znaju i sindikalni čelnici da im je to potencijalno jak adut, ali su istovremeno svjesni da ako ne skupe 445 tisuća potpisa znatno slabe svoju poziciju u svim budućim pregovorima i nemaju gotovo nikakvu šansu za promjenu Vladina prijedloga ZOR-a. Međutim, uspjeh sastanaka poprilično je neizvjestan jer obje strane kreću s poznatih suprotstavljenih pozicija.
Izvori iz Vlade ističu da nema govora da bi Vlada izmijenila svoj zakonski prijedlog. Uzmicanje, kako objašnjavaju, Vladi ne dopušta ekonomska situacija u zemlji. S druge strane i sindikalni su zahtjevi dan prije posljednjih razgovora ostali nepromijenjeni.
"Od referenduma možemo odustati samo ako premijerka iz Sabora u potpunosti povuče prijedlog Zakona o radu te ako dogovorimo da će novi prijedlog u parlament samo uz suglasnost sindikata", kazao je koordinator pet sindikalnih središnjica Ozren Matijašević.
Na pitanje zašto su se sindikati ipak odlučili na razgovor s premijerkom iako su još u petak odbijali takvu mogućnost Matijašević odgovara da je u međuvremenu premijerka poručila da zakon neće biti raspravljen ni izglasan u Saboru sve dok se o njemu bude pregovaralo i sa sindikatima.
Na nastavak pregovora s Vladom sindikalce je uputio i Ivo Josipović. On nije dao jasnu potporu akciji za referendum, nego im je sugerirao povratak za pregovarački stol. I Stjepan Mesić poručio je sindikatima da se oni i Vlada "trebaju prihvatiti razgovora i tražiti kompromisno rješenje kojim će biti zadovoljni i oni koji organiziraju posao i koji investiraju". (T. B.)
Izvor: Novi list