Premijerka je izrazila uvjerenje da bi se mogao postići dogovor o povratku sindikata u GSV, te ih pozvala da se vrate pregovorima.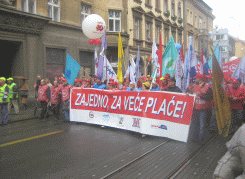 Vlada i sindikati do kraja ovog tjedna mogli bi se dogovoriti o nastavku rada Gospodarsko-socijalnog vijeća iz kojeg su sindikati istupili prije nekoliko mjeseci. Izjavila je to u utorak premijerka Jadranka Kosor nakon posjeta Ministarstvu gospodarstva u koje je došla provjeriti kako se provode Vladine mjere gospodarskog oporavka.
"Vjerujem da bi se do kraja tjedna mogli postići neki dogovori po pitanju GSV-a i ovom prilikom još jednom pozivam sindikalne središnjice da se vrate pregovorima bez obzira na to što je puno toga izrečeno. To treba zaboraviti", rekla je Kosor. "Treba se okrenuti onome što nam je zajednički posao, provesti program i revitalizirati Hrvatsku u gospodarskom smislu", rekla je premijerka, piše Igor Medić u Business.hr-u.
Međutim, čini se da sindikati neće tako lako natrag u GSV. "Do kraja ovog tjedna to se sigurno neće dogoditi. Prije toga treba redefinirati ulogu samog GSV-a, kao i Vladinog ureda za socijalno partnerstvo. Vlada mora mijenjati naviku da od jednog kratkog razgovora sa sindikatima dobije sve što želi", rekao je predsjednik Nezavisnih hrvatskih sindikata Krešimir Sever.
Sindikati, prema njegovim riječima, dovršavaju prebrojavanje potpisa za referendum, a nakon toga će odlučiti kako se postaviti prema Vladi. "Do četvrtka ne želimo otkrivati svoje poteze", istaknuo je Sever. (T. B.)
Izvor: Business.hr