Dobro se pripremite i posao vam je u džepu!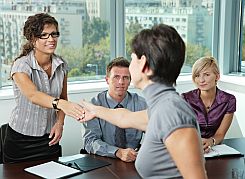 Biti pripremljen na intervjuu za posao već je na pola dobivena bitka za novo zaposlenje. Biti smiren, izgledati opušteno, a opet ne preopušteno, biti pametan, a ne "pametnjaković", oboružati se znanjem, ali i pokazati se snalažljivim, glavni su aduti uz koje ćete sigurno dobiti poziv gdje vam netko govori: "Dobili ste posao".
Kako bi se što bolje pripremili, evo najčešćih 25 pitanja:
1. Recite mi nešto o sebi?
2. Što znate o našoj tvrtki?
3. Zašto želite raditi za nas?
4. Što vi možete napraviti za nas, a netko drugi ne može?
5. Što vam je najprivlačnije i najmanje privlačno na ovom radnom mjestu?
6. Zašto bi vas trebali zaposliti?
7. Što vam je najvažnije kod radnog mjesta?
8. Koja je vaša definicija radnog mjesta na koje se prijavljujete?
9. Koliko vremena će vam trebati da doprinesete našoj tvrtki?
10. Koliko dugo mislite ostati na ovom radnom mjestu?
11. Po vašem životopisu ispada da ste prekvalificirani za ovo radno mjesto. Što mislite o tom?
12. Koje su vaše menadžerske sposobnosti?
13. Jeste li dobar menadžer? Možete li mi dati neke primjere?
14. Što bi vama bilo važno kad biste zapošljavali nekoga?
15. Da li ste ikada nekog trebali otpustiti? Koji su bili razlozi i kako ste se ponijeli u toj situaciji?
16. Što je najteže kod menadžerskog ili direktorskog radnog mjesta?
17. Koji su novi trendovi u industriji kojom se mi bavimo?
18. Zašto ste dali ili dobili otkaz na prošlom poslu?
19. Kako to da ste se odlučili na novi potez u karijeri?
20. Što vam je bilo najdraže i najmanje drago na posljednjem radnom mjestu?
21. Što mislite o vašem trenutnom ili bivšem šefu?
22. Kako to da ne zarađujete više s obzirom koliko godina imate?
23. Što mislite koliku biste plaću trebali primati za ovo radno mjesto?
24. Koji su vaši poslovni ciljevi?
25. Koji su vaši dosadašnji uspjesi?
Imajte pravi odgovor na svako pitanje, i vaše će šanse za osvajanjem željenog posla biti veće!
Izvor: She.hr