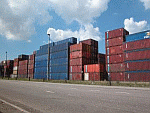 Postojeći broj izvoznika u Hrvatskoj trebao bi se u iduće tri godine povećati sa sadašnjih 10.951 na 13.800, što je povećanje od 25 posto, struktura izvoza trebala bi se promijeniti povećanjem udjela proizvoda s većom dodanom vrijednosti, a uvoz djelomično smanjiti.

Sve su to ciljevi projekta Hrvatska izvozna ofenziva, a provedbene mjere predstavit će se za pet dana na konvenciji Hrvatskih izvoznika. Sastavni dio projekta je osnivanje šest klastera izvozne orijentacije, a odlučeno je da će to biti klasteri proizvođača vode, male brodogradnje, odjeće, ICT rješenja, namještaja te marikulture.
Ministar gospodarstva Branko Vukelić tvrdi da je izvozna strategija izrazito operativna jer se temelji na tridesetak konkretnih mjera, kojima se ne analiziraju postojeća stanja ili makroekomomske postavke, već su upute za poduzetnike.
Predsjednik udruge Hrvatski izvoznici, Darinko Bago kaže kako se strategijom njome ponajprije nastojalo "urediti stanje" u vlastitom dvorištu, a prva provjera ostvarenja ciljeva bit će u rujnu.
Hrvatska je pozitivnu bilancu izvoza imala 1992., kada je izvozila četiri puta više proizvoda nego danas, na što je podsjetio predsjednik Hrvatske gospodarske komore, Nadan Vidošević.
Strategija će se ocjenjivati svakih pola godine, a Vidošević smatra da ona ne donosi odgovor na problem odnosa tečaja i izvoza te da se neće promijeniti politika izvoza.
Predsjednik hrvatske obrtničke komore, Stjepan Šafran pak kao kvalitetu buduće strategije razvoja izvoza izdvaja to što se njome ne razlikuju mali i veliki. Šafran smatra strategiju podrškom i temeljem za razvoj novih suradnji u kojima će mali moći dati svoj doprinos supstituciji izvoza dijelova.
(T.N.)
Izvor:
Poslovni dnevnik