Minimalna plaća u Bugarskoj iznosi tek 123 eura bruto, a u Hrvatskoj nešto više od 385 eura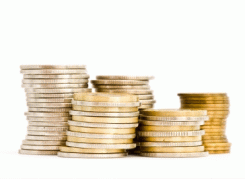 Sa zakonski određenom minimalnom plaćom, nešto većom od 385 eura, Hrvatska ima jedan od najvećih minimalaca među tranzicijskim zemljama. Podaci europske statističke agencije Eurostat pak, pokazuju da najveću minimalnu plaću među novim članicama Unije, s izuzetkom Malte gdje ona doseže 630 eura, ima Slovenija, i to čak 589 eura.
Tako su Slovenija i Malta ujedno i jedine nove članice EU u kojima su minimalci veći nego u Hrvatskoj, piše Adriano Milovan u Jutarnjem listu.
U Luksemburgu čak 1.642 eura
Najmanju minimalnu plaću u EU ima Bugarska, gdje minimalac doseže samo 123 eura u bruto iznosu, što je trostruko manje nego u Hrvatskoj. S druge strane, najveći minimalac u EU lani je imao Luksemburg, i to čak 1.642 eura.
Inače, zakonski zajamčene minimalce iznad 1000 eura, statističari su registrirali i u Belgiji, Nizozemskoj, Francuskoj, Velikoj Britaniji te Irskoj. Za razliku od njih, dio članica EU, poput Njemačke, Austrije, Italije i skandinavskih zemalja, nema institut minimalne plaće.
Minimalci u iznosu od 100 do 350 eura zabilježeni su i u Rumunjskoj, Litvi, Letoniji, Slovačkoj, Estoniji, Mađarskoj, Češkoj i Poljskoj. U drugoj grupi su Portugal, Slovenija, Malta, Grčka i Španjolska, gdje su minimalne plaće između 500 i 700 eura. (V. K.)
Izvor: Jutarnji list