O stagniranju, promjeni i buzari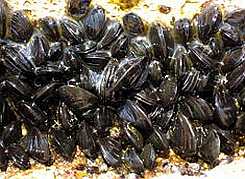 Jedna mala, rasprostranjena i vrlo "obična" školjka je mekušac od kojeg se da nešto naučiti!
Upravo ovaj sindrom opisuje Manfred Kets de Vries u knjizi "Tajna vodstva" (izdavač Selectio i Profil, Zagreb, 2009.) – autor koji zaista daje sasvim drugačiji pogled na dinamiku individualnih, ali i organizacijskih promjena. A kao što uvijek volim reći, coachingu promjena bitna jest, pa pogledajmo kako se u to uklapa dagnja.
Čemu nas može podučiti dagnja? Znate je, ona crna, poprilično neugledna školjka, jestiva na mnoštvo različitih načina, s okusom i mirisom mora? Da, ta dagnja, čvrsto pričvršćena na kamen ili podlogu sitnim, no vrlo čvrstim vlaknima. Ima je i u uzgoju, jer ionako se nigdje ne miče kad se jednom čvrsto primi. Poslije ju je lako "ubrati".
Kao što kaže de Vries, sa stanovišta dagnje donošenje ključne, životne odluke je poprilično jednostavno: ona samo treba donijeti odluku gdje će se smjestiti, učvrstiti.
Kad to odluči, ostaje na jednom te istom kamenu do kraja svog života. A puno je takvih odluka i kod nas ljudi – neki se jednostavno "zacementiraju" na mjestu, pomalo lelujajući sa strujom valova, otvarajući i zatvarajući ljušturu kako bi ušlo hrane onoliko koliko je potrebno za preživljavanje, bez ikakvih pomaka i bez spoznaje o mogućnostima koje pruža neko drugo kamenje, u nekoj drugoj uvali…
Za "dagnje" je karakteristično takvo opiranje promjenama koje vodi "zabetoniranosti" na jednom te istom mjestu. U životu ili poslu, svejedno.
Evo još nekih značajki "dagnji" na radnom mjestu: vole zadržati moć odlučivanja samo za sebe, kada i traže drugo mišljenje onda traže "klimoglavce", okružuju se ljudima koji "misle isto", ne vole kad im ljudi proturječe, skloni su kriviti druge kada stvari krenu loše, nestrpljivi su kad slušaju druge (pogotovo ako misle drugačije), i osjeti se da vole kada ljudi ovise o njima.
Prepoznate li se u ovim pojavnostima, možda je pravo vrijeme da procijenite svoj način donošenja odluka. Na vrijeme, dok niste završili "na buzaru" – vrlo lako Vas drugi mogu pojesti…