Neuzimanje autoriteta zdravo za gotovo, izgradnja tima i predanosti umjesto prijateljstva i poslušnosti, samo su neki od savjeta novim menadžerima.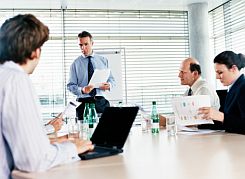 Iako je dobar menadžment temeljito istražen, a osnovne postavke prihvaćene i poznate, većina novih menadžera postupa pogrešno. Linda Hill, profesorica s Harvard Business School, proučavala je one koji su postali menadžeri prvi put te otkrila najčešće mitove i zablude koje vode pogreškama, javlja Business.hr.
Mit 1. - Menadžeri imaju velik autoritet
Novi menadžeri nerijetko s novim poslom i titulom očekuju još više ovlasti i moći. Većina ih međutim biva šokirana kad shvati koliko su ograničeni u svom radu. Zapleteni su u mrežu odnosa u kojoj nisu samo podređeni nego i nadređeni, zatim kolege na istim pozicijama te ostali unutar i izvan organizacije, a svi oni postavljaju im nemilosrdne i često konfliktne zahtjeve, piše Linda Hill u Harvard Business Reviewu. Jedan je lider ustvrdio kako postati menadžer ne znači postati šef već talac. Dok novi menadžeri ne odustanu od mita o moći i ne prepoznaju da moraju pronaći vlastiti put kroz mrežu međuodnosa, vrlo vjerojatno će se susretati s frustracijama i neuspjehom.
Mit 2. – Autoritet proizlazi iz pozicije
Novi menadžeri često misle da se autoritet podrazumijeva s njihovom titulom i pozicijom. Brzo, međutim, nauče da direktne naredbe ne nailaze na odgovor. Što je podređeni talentiraniji, manje je vjerojatno da će jednostavno slijediti odredbe. Vremenom dobri menadžeri shvate da moraju zaslužiti poštovanje i povjerenje svojih podređenih kako bi mogli izgraditi svoj autoritet. Prije nego što ih podređeni počnu slijediti, moraju im pokazati svoj karakter, stručnost i sposobnost.
Mit 3. – Menadžeri moraju imati apsolutnu kontrolu
Novi menadžeri nesigurni u svoju odluku, pogotovo u radnim danima, od svojih podređenih često traže apsolutno udovoljavanje i suglasnost, no vremenom shvate da to nije isto što i predanost. Ako ljudi nisu predani, ne preuzimaju inicijativu, a tada menadžer ne može efektivno delegirati zadatke. Menadžerima bi izazov trebao biti razvijanje jakog osjećaja zajedničke predanosti zadanim ciljevima, a ne slijepo pridržavanje uputa.
Mit 4. – Moraju izgraditi dobre individualne odnose
Linda Hill navodi da se menadžeri moraju usmjeriti na izgradnju tima, a ne na prijateljstvo. Kada se novi menadžeri fokusiraju samo na izgradnju odnosa jedan na jedan, zanemaruju temeljne aspekte učinkovita vodstva. Treba upregnuti kolektivnu moć grupe kako bi se poboljšalo individualno postignuće, ali i predanost.
Mit 5. - Moraju osigurati da stvari teku glatko
Težak je zadatak brinuti se o tome da se svi poslovi odvijaju glatko. Novim menadžerima to može oduzeti sve vrijeme i energiju. Ako je to sve čime se bave, riječ je o velikoj pogreški.
"Novi menadžeri odgovorni su za poticanje promjena koje će poboljšati rad njihove grupe. Često to podrazumijeva izazivanje organizacijskih procesa i struktura koje su iznad ili ispod njihova područja formalne ovlasti. Tek kad shvate taj dio posla, mogu se ozbiljno pozabaviti svojim liderskim zaduženjima i odgovornostima", zaključuje Linda Hill. (T. B.)
Izvor: Business.hr