Oštar rast nezaposlenosti mladih u razvijenim zemljama jedna je od mnogih i vjerojatno najviše obeshrabrujućih posljedica ekonomske krize, javlja ugledni The Economist.
U zemljama u kojima je taj problem bio prisutan i prije krize, poput Španjolske, stanje se dodatno pogoršalo. Odmah iza te zemlje, po nezaposlenosti mladih, nalazi se Hrvatska.
The Economist zaključuje kako tržišta rada tih zemalja karakterizira visoka zaštita radničkih prava određenih grupa, dok ostali, izvan tog sustava, kucaju na njegova vrata nadajući se da će ih se pustiti unutra.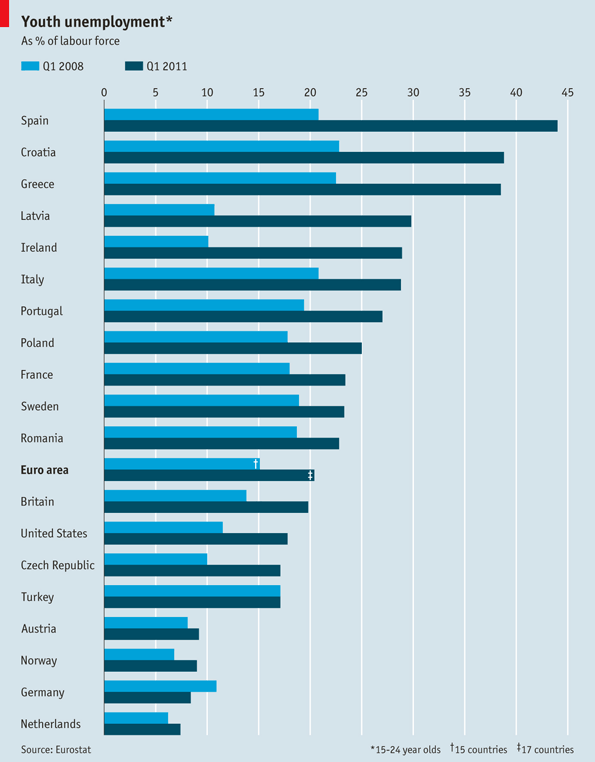 No, i države s liberalnijim tržištima rada, poput Irske, također po pitanju nezaposlenosti mladih stoje loše. Ipak, te države se nadaju da će rast nezaposlenosti mladih zbog liberalnijeg tržišta rada biti privremen.
Osiguravanje da se to i dogodi je jednako velik izazov za vlade europskih država kao i zaštita njihovih posrnulih banaka i smanjenje njihovih proračunskih deficita. (T. B.)
Izvor: The Economist