Uskrsnicu u novčanom obliku očekuje 13 posto ispitanika.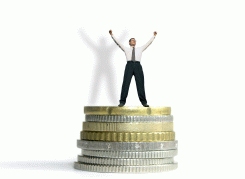 Prema procjenama sindikata ovogodišnja uskršnja košarica za prosječnu hrvatsku obitelj iznosit će oko 500 kuna. A očekuju li građani uskrsnicu kojom će pokriti troškove košarice i koliku, istražio je portal MojPosao u anketi provedenoj tijekom travnja među 420 ispitanika.
Uskrsnica se po 'popularnosti', čini se, ne može mjeriti s božićnicom i regresom, jer ju velika većina ispitanika, njih 81 posto - ne očekuje. Osim nezaposlenosti, kao razloge ispitanici najčešće navode krizu zbog koje njihov poslodavac nema novca ni za redovitu isplatu plaća, a kamoli uskrsnice.
Neki pak ne očekuju uskrsnicu jer su im plaće smanjene, ili su dobili manju božićnicu, pa ne vjeruju da će im tvrtka isplatiti dodatak za Uskrs. Ostali tvrde da to nije predviđeno kolektivnim ugovorom za njihovu djelatnost, pa se uskrsnici zato ni ne nadaju.
Ipak, uskrsnicu u novčanom obliku očekuje 13 posto ispitanika, i to najčešće u rasponu od 400 do 1.000 kuna. Iako očekuju novac, ovi ispitanici uglavnom nisu sigurni hoće li uskrsnicu zaista i dobiti i hoće li uopće biti u novcu, ili dio u novcu, a dio u bonovima nekog trgovačkog lanca, ili će im poslodavac pak uskrsnicu u cijelosti 'isplatiti' u bonovima.
Onih koji očekuju uskrsnicu u proizvodima je pet posto, a od proizvoda najčešće navode šunku, te ostale prehrambene proizvode kao što su kolači, sokovi, čokolada, meso itd.
Samo jedan posto ispitanika očekuje uskrsnicu dijelom u novcu, a dijelom u proizvodima. (T. B.)