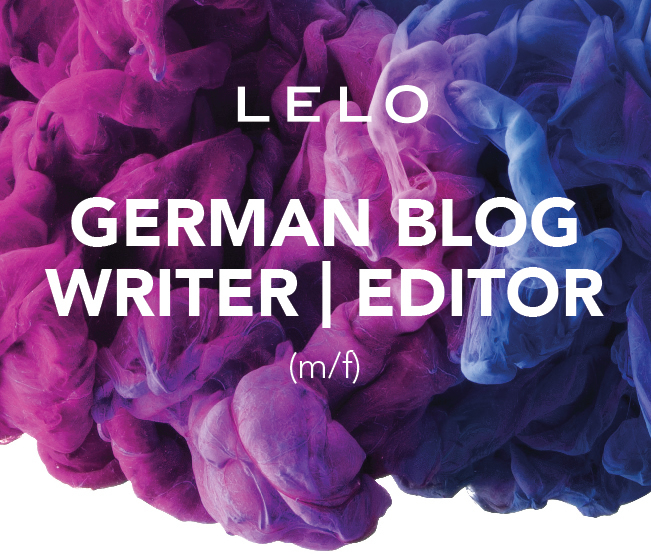 Who we're looking for
LELO, the world's leading pleasure brand, is looking for an outstanding, passionate and experienced Blog Writer/Editor to bring its sex, relationship and health content to the German audience.
The successful candidate is to take ownership of the production of high quality content for the German version of LELO's digital publishing arm, Volonte. With support and direction from the Global Marketing Team, you will be responsible for transliterating existing English content into German, and sourcing unique and interesting content for the German audience.
You will also manage any German social media channels, and source valuable and equally passionate German authorities and contributors, to make the German site the most influential amongst its competitors.
Additional info
The scope of this role is negotiable for the right candidate. This can be a freelance, remote or (preferably) a full-time position in LELO's office.
LELO Volonte Blog and its non-English siblings have a combined readership of 600,000 per month, far in excess of any competitors. It's a trusted resource for thousands of people all over the world, and is at the forefront of sexual, relationship and wellbeing discussion. LELO is a large and still-expanding business, with opportunities for travel and some incredible perks of the job.
What you'll do
Mapping out a content strategy that supports and extends marketing initiatives, both short- and long-term, determining which methods work for the brand and why. Continuous evolvement of strategy is a must.
Ensuring all content is on-brand, consistent in terms of style, quality and tone of voice, and optimized for search and user experience for all channels of content, approving meta data for each post, formatting, categorizing, tagging images and linking to related posts.
Supervising writers, editors, content strategists; be an arbiter of best practices in grammar, messaging, writing, and style.
Integrating content activities within traditional marketing campaigns.
Proposing and selecting appropriate art, photography and video to accompany features and columns.
Conducting ongoing usability tests to gauge content effectiveness.
Actively building wider contact list of contributors, cultivating potential authors and sources, generating content ideas and making contributor contacts.
Monitoring news sites for possible article ideas and announcements.
Writing reviews, news items and feature articles as assigned/needed.
Keeping the senior management up-to-date on schedule progress and problems, as well as any revisions to the monthly editorial calendar.
What you've done
Knowledge, skills & abilities:
ESSENTIAL: comfort and experience with adult themes.
Outstanding writing and communication skills.
Excellent knowledge of journalism and editorial processes, administrative processes, data entry and report generation.
Experience overseeing and critiquing content, assigning deadlines, monitoring team compliance to assignments, conveying deadlines and manuscript requirements to authors.
PC platform proficiency; working knowledge of WordPress Content Management Systems a definite plus.
Preferred experience:
Minimum 3 years of editing experience; magazine or agency background preferred.
Languages Required:
Native German speaker.
Fluent in English.
Location:
Negotiable
LOCATION: ZAGREB, CROATIA
Interested applicants should send their CV and brief cover letter in English via application link.