Ako se zbroji minimalni zakonom propisan broj dana godišnjeg odmora, dani vikenda te svi praznici i blagdani, skoro polovica dana u godini je neradna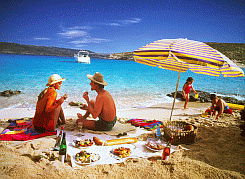 Mnogi bi rekli da za one zaposlene dolazi najbolji tjedan u godini. Naime, iako se Dan antifašističke borbe (22. lipanj) u Hrvatskoj više obilježava nego slavi, ponedjeljak je ipak neradni dan. Dakle uz nadolazeći vikend, tri su dana prilike za odmaranje.
Oni pak koji se odluče uzeti utorak i srijedu slobodno, ili iskoristiti preostali dio godišnjeg odmora, odmarat će se i u četvrtak, budući da se 25. lipnja slavi Dan državnosti. Ako pak u "svoju računicu" ubrojite i petak, bilo da uzimate slobodan dan ili koristite stari godišnji, ponovno vam slijedi vikend. I eto, uz samo tri dana opravdanog izostanka s posla, dobili ste godišnji odmor u trajanju od devet dana.
104 dana vikenda
Inače, dio zaposlenih u pravilu na raspolaganju ima 52 vikenda godišnje kada ne radi, već koristi svoje pravo tjednog odmora. To su dakle 104 dana u godini kada se ne odlazi na posao, piše Boris Vlašić u Jutarnjem listu.
Zakonom zajamčeni godišnji odmor kreće se od 18 radnih dana naviše, što, kada se zbroji s vikendima, daje priliku da se na odmoru provede minimalno 122 dana godišnje. To je više od četiri mjeseca, iako zaposleni tijekom godine imaju prilike i za više slobodnih dana.
Naime, osim državnih praznika, ne radi se niti na vjerske blagdane, od kojih neki ipak padaju nedjeljom. U svakoj godini postoji 13 takvih dana, počevši od Nove godine, prvoga siječnja pa do dana Sv. Stjepana koji pada 26. prosinca. To pak za zaposlenike može značiti čak 135 neradnih dana u godini. Zahvaljujući kalendaru, ove će pak godine zaposlenici imati priliku na deset neradnih dana jer neki od tih praznika dolaze tijekom tjedna. (V. K.)
Izvor:
Jutarnji list