Unaprijedili smo nekoliko stvari na našim stranicama, a izmjene će posebno zanimati sve one koji imaju otvoren MojProfil ili ga tek planiraju otvoriti.
Ukoliko već posjedujete životopis u Europass formatu, a želite otvoriti MojProfil na MojPosao stranicama, od sada to možete učiniti vrlo jednostavno - nakon registracije učitajte svoj Europass životopis unutar vašeg Profila.
Sustav će podatke iz vašeg životopisa automatski učitati u MojProfil. Ukoliko želite, Europass životopis možete dodati i kao zaseban dokument unutar vašeg Profila, bilo da se radi o .pdf ili .xml formatu.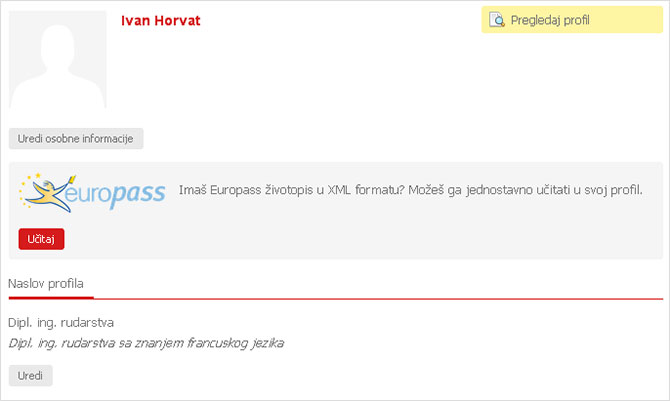 Potaknuti vašim prijedlozima i komentarima, pregled prijava je također unaprijeđen. Osim dosadašnjih detalja prijava, dodali smo i točno vrijeme prijave te informacije o dokumentima koje ste priložili.
Ukoliko vas je zanimala informacija kada je neki oglas objavljen i koliko je puta pregledan, sada to možete vidjeti unutar detalja oglasa.
Također, sustav vas sada automatski obavještava ukoliko ste se na neki oglas prijavili više puta.
Ovo je samo jedan mali dio svih izmjena i poboljšanja koja smo, slušajući vaše prijedloge, primjenili kako bismo vam omogućili jednostavnije i kvalitetnije korištenje usluge MojProfil.