O pripremama za razgovor za posao postoji bezbroj savjeta, pa čak i stručne literature. Pa ipak, to još uvijek ne znači da možemo predvidjeti ishod. Možda vam ova infografika malo olakša stvar…
Ako je vjerovati Come Recommendedu, 33% poslodavaca već u prvih 90 sekundi intervjua zna hoće li zaposliti kandidata!
Evo i ostalih zanimljivih informacija:
Najčešća pogreška kandidata na razgovoru je slabo znanje o tvrtki ili nedostatak istog.
Najčešća neverbalna pogreška kandidata, prema tvrdnjama 67% poslodavaca, je to što izbjegavaju kontakt očima.
Pri prvom susretu 55% utiska ostavit će odjeća koju je kandidat obukao, ponašanje te način na koji je ušao u prostoriju.
Čak 65% poslodavaca potvrdilo je da će prilikom izbora između dva podjednako dobra kandidata izbor pasti na onog koji je bio bolje odjeven.
Jedno od najčešćih pitanja na razgovoru za posao je "Recite nam nešto o sebi."
Najveća pogreška kandidata na razgovoru za posao je što ne traže posao.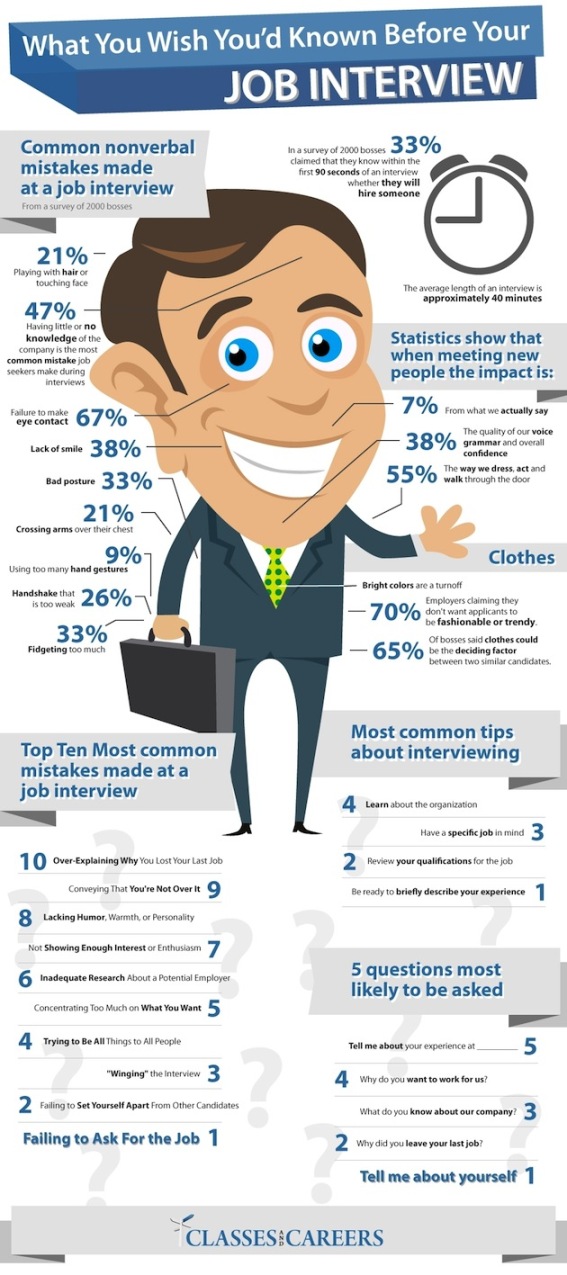 Izvor: The Undercover Recruiter