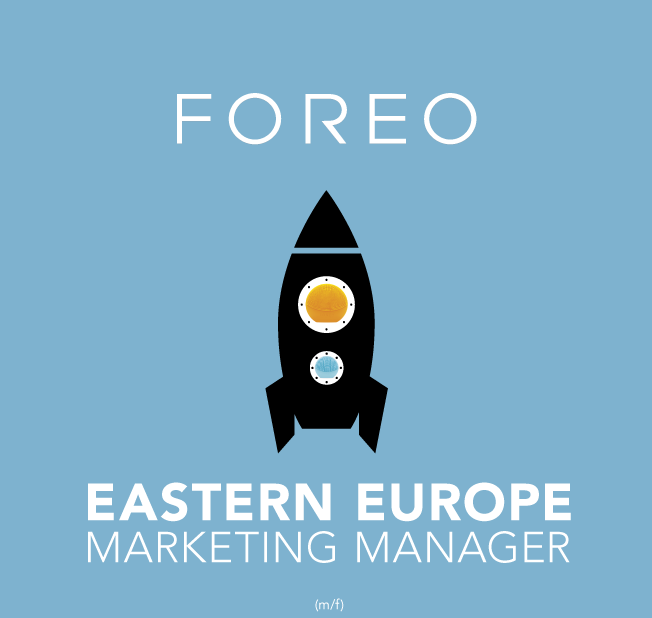 At FOREO, our mission is to question conventional thinking, and we are doing that by working on mold-breaking projects, changing the world one amazing product at a time. Our LUNA™ line of skincare devices and the new ISSA™ line of dental beauty devices have already smashed the conventions of the health and beauty industry. And we are just getting started.

We're looking for a dedicated Marketing Manager to push the development and implementation of marketing projects for the company in Eastern Europe. The successful candidate will be responsible for project management, will participate in the definition and management of the project scope, will determine project goals and outcomes as well as measures and report performance.
WHAT YOU WILL DO AT FOREO
Responsible for all aspects of B2B and B2C marketing activities in the Eastern Europe area, including digital marketing, campaign management, PR, media planning & buying, trade marketing and more.
Help to define and create the marketing strategy for the assigned territory that adheres to FOREO's DNA and identity.
A stratetegist responsible for the management and execution of all marketing communications campaigns to delvier stong ROI.
A "Swiss-army knife" that will drive projects forward with minimal supervision.
Cross-functional collaborator who will work with creative, web development, product development and sales teams to take ideas from conception to realization.
Conduct product training for sales teams and key distributors.
Support the sales team to develop and implement trade markering strategies including in store promotion and e-tailer campaigns.
Drive and work as part of a fast-paced team in a start-up atmosphere.
WHAT YOU BRING TO THE TABLE
BA/MA degree in Marketing, Communications, Economics, Business or a related discipline.
Strong knowledge in Marketing 360 background ideally from beauty, fashion or a luxury lifestyle brand.
A creative, dynamic, forward thinking person- a solution solver and a doer.
Understanding the needs of EE market.
Minimum of 3+ years of experience in similar position.
Proactive, strategic thinking and problem solving skills.
Strong analytical and excel skills as well as knowledge to make data-driven decisions.
Capability to execute marketing campaigns.
Results driven.
Highly motivated to join a fast growing company within a multicultural environment.
Experience in international environments will be a plus.
Excellent English skills.
Amazing company culture.
Surround yourself with great team members. We hire great people based upon our core values creating a fun, collaborative and stimulating work environment.
We are a fast-growing team, allowing you to have a bigger impact on our future.
Are you ready to take this exciting challenge? Send your resume and cover letter via APPLICATION LINK.
Please note that only the shortlisted candidates will be contacted. All applications will be considered under the terms and conditions of confidentiality, in accordance with the regulations of personal data protection.
LOCATION: ZAGREB, CROATIA