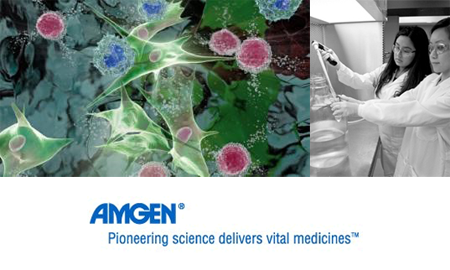 Amgen is a leading human therapeutics company in the biotechnology industry. For 40 years, the company has tapped the power of scientific discovery and innovation to advance the practice of medicine.

Amgen pioneered the development of novel products based on advances in recombinant DNA and molecular biology and launched the biotechnology industry's first blockbuster medicines. Today, serving millions of patients, Amgen continues to be an entrepreneurial, science-driven enterprise dedicated to helping people fight serious illness.

We are seeking a new colleague for

Administrative Coordinator (m/f)
to our Croatian affiliate - Zagreb region
for fixed term contract
Key activities:
Serves as a primary contact for Medical department and coordinates ongoing processes for the team:

Manages department operations: filing, databases (intern C3 database, end to end process, HCR reporting), tracks budget, ensures stationary orders, etc.
Screens and acts on incoming phone calls and e-mails; provides service and handles complaints
Maintains distribution and personnel lists
Coordinates mailings and courier/deliveries
Coordinates functional processes such as invoicing and payments or preparation
Manages the administrative aspects of relationships with outside vendors
Participates in department project teams
May provide training, guidance and orientation to new team members

Ensures timely coordination of department members' administrative needs:

Manages calendars
Coordinates local and international meetings (if applicable); arranges travel, meeting arrangements, visitor accommodations
Organizes meeting rooms, including logistics, catering and equipment needs (if applicable)
Prepares agendas, takes and completes meeting minutes; coordinates distribution and follows up on action items
Independently responds to routine correspondence, determines best approach and presentation when preparing and formatting correspondence, memorandums, reports and presentations
Authority

Determines administrative processes and approaches to completing assignments
Ensures internal service standards are met
Competencies
Takes a proactive approach to identifying breakdowns in service, information flow and process; resolves issues appropriately
Well organized, identifies and balances multiple priorities and the needs of multiple teams
Applies attention to detail
Communicates details clearly and accurately; both orally and in writing
Modifies communication style as appropriate for the audience; may regularly interact with clients and executives
Demonstrates a service-oriented approach to all activities
Demonstrates a willingness to learn new approaches and to adapt to change
Leads by example in promoting teamwork
Minimum Requirements
High School Diploma
Minimum 3 to 5 years related experience in administrative support role
Experience using MS Office tools
Fluency in local language and English
Preferred Requirements
Experience in similar or related disciplinary and/or international environment
Familiarity with terminology of area supported such as Marketing, Administration, Logistics etc.
SAP, basic IT fluency
We can offer:
Member of a great team
Competitive compensation package
Chance to work in a dynamic and professional multinational organization
If you are interested in this position please send your CV with motivation letter in English via application link.
Deadline: 23 July 2019
Further information: www.careers.amgen.com